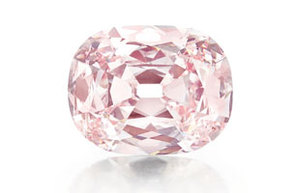 Christie's New York is poised to sell the largest fancy intense pink Golconda diamond ever offered at auction when the "Princie Diamond" goes up for bid on April 16.
The Princie is a 34.65-carat fancy intense pink cushion-cut diamond whose origin can be traced to the ancient Golconda mines in south central India. The stone was first recorded as belonging to the royal family of Hyderabad, who ruled one of the wealthiest provinces of the Mughal Empire.
First offered at auction in 1960 by the Nizam of Hyderabad, the London branch of Van Cleef & Arpels purchased the Princie Diamond for £46,000 (approximately $69,588 in today's currency). The diamond got its name at a party at Van Cleef's Paris store, where it was christened in honor of the 14-year-old Prince of Baroda, who attended the gathering.
This is the first time in 50 years that the diamond has appeared at auction, and Christie's expects it to "achieve in the region of $30 million to $40 million."
"One of the largest and finest pink diamonds in the world, the Princie Diamond carries a fabulous provenance. The rich history, combined with its rare pink hue, conveys a special charm, which will speak to all collectors in the world seeking the best of the best in gemstones," said Francois Curiel, chairman of Christie's jewelry department.
UPDATE
The Princie Diamond sells at high end of estimate and breaks multiple auction records
The $39.3 million sale of the "Princie Diamond" set new world records for the most valuable Golconda diamond sold at the auction and the most valuable diamond ever sold at Christie's and in the United States.