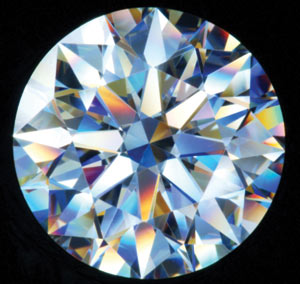 Here are some methods to help you determine if a Diamond is real…or a fake
1. Transparency Test: Diamonds should not be transparent completely. Diamond Cutters International recommends turning loose diamonds upside down over a newspaper or other piece of paper with typed words printed on it. If you are looking at a real diamond, typically you will not be able to read the text through the diamond. If you can read the text, the stone you are looking at does not have the proper light dispersion properties a real diamond possesses.
2. Reflection Color: Because of the refraction index of diamond, the reflection and sparkles within the stone are typically described as "grey" or "steel" in color. According to GoldSmart.com, stones that have rainbow like reflections are likely not genuine diamonds.
3. Fog Test: Diamonds are able to disperse heat rapidly and a light huff of breath on the stone should fog it up but that fog will vanish almost instantly. A fake diamonds may stay fogged for 2 seconds or longer according to National Jeweler's Supply.
4. Perfection: Any natural stone will have some minute flaws and inclusions or "birth marks", and a gem that is perfectly flawless should be examined with great care to be sure it is real rather than being lab-created. While real flawless diamonds are available, if the stone in question is offered at an unforgettably affordable price, it may not be a real gem.
If it seems too good to be true, it could be a scam or a fake.