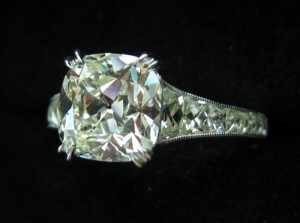 Movies and TV shows depicting life in the "Roaring 20s" have risen to prominence in pop culture as of late–namely PBS' Downton Abbey and the upcoming feature film The Great Gatsby–leading to a resurgence of styles from this era, not only in clothing but jewelry as well.
Jewelry reminiscent of the Art Deco period includes streamlined and curved pieces, angular lines and geometric shapes. Filigree also is a common characteristic. Long earrings, cocktail rings and pearls are staples from this era, as are long necklaces with tassels. Tiffany & Co has launched a new collection with Catherine Martin, the costume designer behind Gatsby. The luxury brand- which designed all the jewelry for the upcoming movie took inspiration from their antique designs, with a modern twist. Opulent pieces from the collection evoke the Roaring 20's. Jon King, Tiffany executive vice president said in a statement: 'The jewelry symbolizes the story's themes of wealth and privilege, and we approached its design with the utmost style and luxury in mind.'
Only shoppers with the most expensive tastes will be able to purchase these pieces at Tiffany, though, which cost up to $900,000 for a flower-shaped diamond ring.
But do not despair, NYC Wholesale Diamonds and it's Fine Jewelry designer division are offering our collection of these styles at prices starting at $ 1,500.
British actress Carey Mulligan was constantly shadowed by a security guard on "The Great Gatsby" set because she was draped in diamonds worth millions of dollars for her role as Daisy Buchanan.
The "Drive" star wore luxurious pieces created especially for the movie by jewelers at Tiffany & Co, and executives at the company employed a guard to watch over the actress at all times.
Mulligan insists the security measures were distracting as she was constantly watched, even when she was trying to work.
She tells Britain's Daily Mail, "I would be doing a scene, wearing these fabulous jewels from Tiffany's worth many, many millions. There'd be diamond bracelets on each arm, and diamond earrings, and rings, and strings of pearls around my neck. And I could see this guy in the corner watching me intently, in case I ran off with anything."