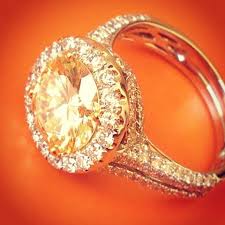 NEW YORK, July 31, 2013 /PRNewswire via COMTEX/ — Colorful Engagement Rings and Wedding Bands Spice Up Bridal Jewelry
When it comes to wedding trends, color is hot! The color trend continues with engagement rings and wedding bands for women and for men. Bridal jewelry has traditionally been dominated by white diamonds. However, with personalization becoming increasingly important to brides and grooms, colored diamonds and colored gemstones are quickly becoming a way for them to showcase their distinct personalities.
"Some of the hottest styles of bridal jewelry are those with a jolt of color," says Amanda Gizzi, spokesperson for Jewelry Information Center, the consumer education arm of Jewelers of America. "Hot colors include champagne, brown, pink, yellow, black and gray which are giving a modern yet timeless twist to engagement rings and wedding bands."
With engagement rings, color can be used either as a center stone or as accent stones. Using bold accents of color engages couples who have a distinct style and want a ring that is unlike that of their other family and friends but still want to have a white diamond center stone. Fashionable engagement ring styles include those with unique patterns of colored diamonds.
Engagement rings with colored diamond or gemstone center stones are also popular. One popular style is the "halo" setting which has a center stone surrounded by a ring of white diamonds. The halo design is highly thought of because it makes the engagement ring look larger than other settings.
In addition to engagement rings, colorful wedding bands are being embraced by both men and women. "Men and women want a wedding band that speaks to their individuality," adds Gizzi. "Black diamonds are especially hot in men's rings as they are chic yet masculine." Pairing colored gemstone or diamond wedding bands with a white diamond engagement ring is a great option for the woman who loves color but wanted a traditional diamond engagement ring.