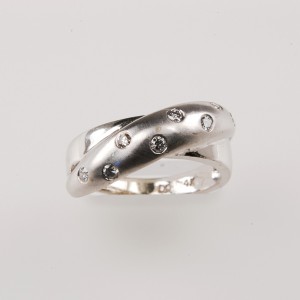 Here at NYC Wholesale Diamonds we specialize in Diamond Engagement Rings and Wedding bands. Many clients and friends have recently asked with new laws allowing same sex marriages, what types of rings do these couples favor. The following is an opinion piece from The Hollywood Reporter on this topic.
At every wedding comes some variation on the part about "With this ring, I thee wed." But for same-sex couples, the choice of "this ring" more often reflects their own individual personalities and taste rather than stodgy old conventions. "I could never see myself wearing a traditional round wedding ring with a diamond that could get caught on things," said filmmaker Leanna Creel.
So her partner, producer Rinat Greenberg, had a ring designed with three square-cut diamonds in a smooth setting "that kind of looks antique." For the "very nontraditional" Rinat, they settled on a Xen steel band with an embedded diamond from OK on Third Street, after they noticed a similar style on some friends.
At Garde on Beverly Boulevard, owner Scotti Sitz said rings from contemporary designers Satomi Kawakita ("delicate") and a local, Venice-based Naomi Maslon ("not all girly"), are popular with customers.
"They don't do matching, they like to mix it up," she said, recalling, "there was an eternity band with black diamonds all around that we did as a special order but the partner wanted a solid 18-carat band with no stones."
Even when they veer classic, couples avoid the humdrum. When New York private equity investor George Doomany and his partner, fashion executive Norman Goldblatt, went to Tiffany's, they passed on the standard marriage bands and settled on matching white-gold Atlas rings with its openwork circle of roman numerals.
"People always ask what it is supposed to mean. The numerals are hours on a clock and represent the circle of time and on into perpetuity," he said.
Similarly symbolic, the Cartier Love ring adaptation of the iconic bracelet from the lovin' late '60s, with its signature screw fastening and unisex styling, has time-honored appeal.
"In the end, the good thing about gay weddings is that you can do whatever you want," said Creel, reflecting on that fact that two such non-traditionalists both ended up with diamond rings. "You get to rewrite things and there are no expectations. I found a lot of freedom in that."