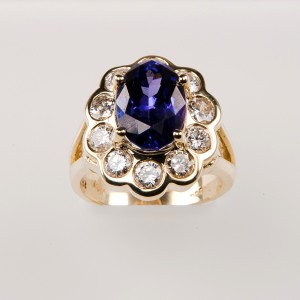 If you have a flair for the glamour of old Hollywood and over-the-top jewelry, you're in luck.
A new exhibit opened Friday at the Gemological Institute of America campus in Carlsbad, California titled "More is More."
The show features pieces put together by famed Hollywood set and costume designer Tony Duquette and his partner Hutton Wilkinson.
To give you an idea of what you can expect at the show, Wilkinson was once quoted as saying, "If it's not fabulous, it's meaningless."
"This is bling before bling with a capital B. Beauty is in the eye of the beholder. It's not gaudy, unless you don't own it," GIA instructor Larry Larson said.
The exhibit runs through March 2014.
Keith J.Saxe, President of NYC Wholesale Diamonds earned his GIA Diamond Grading Certification in September, 1994 at GIA's New York City location. There are only two GIA offices in the United States, in Carlsbad, Ca. and The New York Diamond District. GIA's New York office will be moving from 580 Fifth Ave to 50 West 47th street directly across the street from NYC Wholesale Diamonds HQ in January 2014