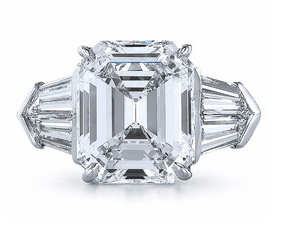 ~~NEWS: Here is the latest inside industry update on all fancy diamond shapes:
Ovals hot, Princess not. Cushions steady, Pears improving. Hearts slow. Good demand and firm prices for very large, top quality fancy shapes. U.S. demand supporting market for commercial-quality fancies, especially for sizes under the carat. Larger sizes stable. Far East fancy demand weak. Buyers are very selective and insisting on excellent-shape proportions. Significant price differentials between excellent and average-cut fancies. Off-make, poorly-cut fancies illiquid and very hard to sell, even at very deep discounts.
Our most recent Yelp review…..Thank you so very much for the kind words Brad!
Keith came highly regarded…I emailed back and forth prior to my appt with him and he had all my options ready to go. He then built the ring with the 3 GIA cert stones I picked and I had it Fed-Ex to me in VA the following week! The ring is perfecto! And one other thing is no one and I mean no one can touch his pricing. 1st class experience and 1st class ring built from scratch…Not many rings come with GIA certs for the side stones… I will never shop anywhere else again… Thanks Keith S.
Brad D
Chesapeake, VA
Keith Saxe is GIA and FIT trained and has been a trusted high end diamond jewelry specialist for 26 years. He is the founder and president of NYC Wholesale Diamonds located at 47 West 47th Street, Suite 3A in the New York City Diamond District. His website is www.NYCWholesaleDiamonds.com and he authors a blog www.NYCDiamondBlog.com. Keith has a full service store located across the street from his private office, and a San Diego factory showroom. He offers GIA Certified Ideal Cut Diamonds, and state of the art fine jewelry designs at low wholesale prices. Keith has been named the N.Y. Diamond District's Favorite Jeweler by the N.Y. Post's Savvy Shopper column, had his diamond education articles published, been recommended in the New York Times, CNN reporter Robyn Spizman's 'Perfect Present Guide' and 'The GIFTionary', as well as having his Diamond Halo Engagement Ring design featured on 'The Knot' http://www.theknot.com/weddings/album/a-preppy-upstate-wedding-in-aurora-ny-144122