Congratulations to the very special couple from Maine who braved the rough seas all in the name of love! We wish you an eternity of happiness!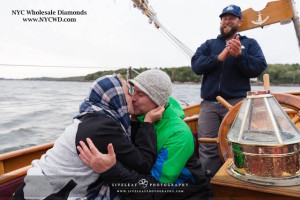 'Just wanted to inform you that she said yes! 🙂  I planned it to happen on a Schooner sailboat in Maine and it worked out perfectly.  It was rough sledding due to weather (this was about a month ago when they were talking about a hurricane possibly coming up the coast).  Seas were rough, but the captain found a calm area and I made it happen.  The photographers I hired disguised as tourists were able to capture the moments.  She was shocked and it will be something we remember forever.  Success!'
Find the perfect diamond ring as this couple did by clicking on our exclusive Diamond Search Engine!