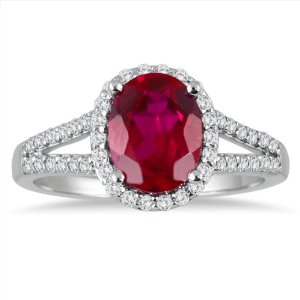 There's no better way to demonstrate your love than by giving a ruby in celebration of a July birthday. Rubies arouse the senses, stir the imagination, and are said to guarantee health, wisdom, wealth and success in love.
Ruby is a variety of the gems species corundum. It is harder than any natural gemstone except diamond, which means a ruby is durable enough for everyday wear.
Fine-quality ruby is extremely rare, and the color of the gem is most important to its value. The most prized color is a medium or medium dark vivid red or slightly purplish red. The first information about the July Birthstone is found in the ancient Indian traditions, dating from the VI century BC. Ruby got its name from the Latin word rubella – red. In the scriptures it is called the «king of gems», «leader of the gems» – it was thought that the owner of the July Birthstone ruby guaranteed full safety, even among enemies.
Here is a popular 19th century poem referencing the power of Ruby concerning love:
The glowing ruby shall adorn,
Those who in July are born;
Then they'll be exempt and free
From love's doubts and anxiety.
NYC Wholesale Diamonds features a magnificent line of Ruby and Diamond Jewelry. Highlights include Engagement Rings, Tennis Bracelets, Earrings, Necklaces and Wedding Bands.
A unique, personal jeweler who works nationwide, Keith Saxe is GIA and FIT trained and has been a trusted high end diamond jewelry specialist for 28 years. He is the founder and president ​of NYC Wholesale Diamonds located at 47 West 47th Street Suite 3A in the New York City Diamond District. His website is www.NYCWD.com and he authors a blog atwww.NYCDiamondBlog.com. Keith has recently been named to The Diamond Council of America, is a member of the Jewelers Board of Trade, and Jewelers of America. He offers GIA Certified Ideal Cut Diamonds,​ and state of the art fine jewelry designs at low wholesale prices. Keith has been named the N.Y. Diamond District's Favorite Jeweler by the N.Y. Post's Savvy Shopper column, had his diamond education articles published, been recommended in the New York Times, national gift reporter Robyn Spizman's 'Perfect Present Guide' and 'The GIFTionary', as well as having his Diamond Halo Engagement Ring design featured on 'The Knot.'