Sienna Miller found a posh way to dress up her white beaded boho frock at the Cartier Fifth Avenue Mansion reopening party in Manhattan Wednesday.
The 34-year-old Golden Globe nominee – who relies on stylist Kate Young – glittered in diamond earrings, bracelets, a ring, and silver kitten heels.
'I think she has really good style, and I would love to take credit for it, but it's mostly her,' the 40-year-old former assistant to Anna Wintour told Vanity Fair last year.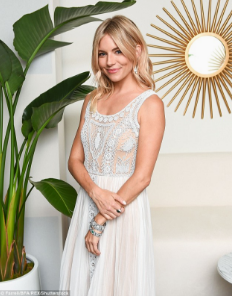 'She has great taste, but I think that her career has changed a little bit in the last year and a half.
'She's in really serious movies, and she's doing really serious acting roles and doing an amazing job in them. So I like to think the fashion just relates to her career.'
Not seen with the High-Rise actress was her four-year-old daughter Marlowe with former fiancé, Remainder actor Tom Sturridge.
Sienna will likely attend the October 15 world premiere of her next film – The Lost City of Z – which closes the 54th New York Film Festival.
In the 1925-set Amazon adventure drama, the Manhattan-born Brit plays Nina, the wife of British explorer Percival Fawcett (Charlie Hunnam).
According to Deadline, Amazon Studios is 'in negotiations' to buy the US rights, while Studiocanal nabbed international distribution.
Tom Holland and Robert Pattinson also star in The Lost City of Z, which was produced by Brad Pitt and based on the 2009 David Grann book.
Article courtesy of  The Daily Mail
A unique, personal jeweler who works nationwide, Keith Saxe is GIA and FIT trained and has been a trusted high end diamond jewelry specialist for 27 years. He is the founder and president ​of NYC Wholesale Diamonds located at 47 West 47th Street Suite 3A in the New York City Diamond District. His website is www.NYCWD.com and he authors a blog www.NYCDiamondBlog.com. ​Keith has recently been named to The Diamond Council of America, is a member of the Jewelers Board of Trade, and Jewelers of America​. He offers GIA Certified Ideal Cut Diamonds,​and state of the art fine jewelry designs at low wholesale prices. Keith has been named the N.Y. Diamond District's Favorite Jeweler by the N.Y. Post's Savvy Shopper column, had his diamond education articles published, been recommended in the New York Times, national gift reporter Robyn Spizman's 'Perfect Present Guide' and 'The GIFTionary', as well as having his Diamond Halo Engagement Ring design featured on 'The Knot.'