Thanks so much, Keith. The ring is so stunning. The wedding rings are perfect, and I couldn't be happier with David. So thank you for being a part of that.
Warmly,
Dana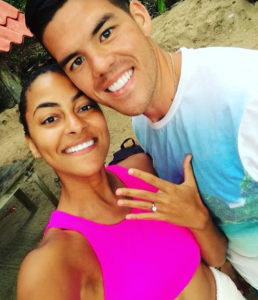 Hey Keith,
I just wanted to let you know that I proposed to my now fiancé Paige this past week in Costa Rica! The setting was beautiful and I couldn't have asked for a more perfect ring do do it with. You did such a superb job! She is in love with your brilliant artwork and she keeps telling me that she "can't stop looking at it!" Again, thank you so much for such a precious time in our lives. It's definitely one that we will remember forever!
 – Brad N.
I have had the honor of knowing and working with Keith Saxe, NYC Wholesale Diamonds, for three years. It is so important to be working with an educated and well-informed company and jeweler. Keith is my "go to guy" for exceptional diamonds! His knowledge of business and his product is above reproach! Best of all, his warmth and understanding create an atmosphere conducive to a most pleasant experience in a business where clients are usually under tight time constraints, emotionally frazzled and under-informed. Working with Keith, I am highly impressed with his desire to work with his client, his friendly demeanor, and his integrity. Combined, that makes working with him a pleasure and gives a secure feeling that you will receive what you ask for; a real exciting transaction and a new friendship! I will continue to work with Keith for in him I have found a true, honest spirit whose knowledge and ability I trust!
– JANE E. MYERS JFM GEM ADVOCATES