Congratulations Ali and Jack!
Thank you, Jack, for your kind words.  Our appreciation for your service to our country is infinite!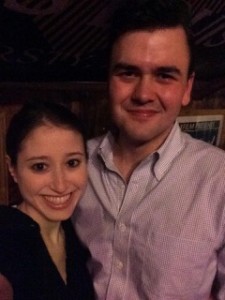 "Great experience overall. Spoke to Keith last summer explaining I was starting to price out engagement rings and made it clear I wasn't yet ready to buy, and he gave me a quote and was very engaging despite the fact that I wasn't in the market yet, so first sign of great service. Got back in touch with him in fall '16 telling him my budget and size/band type, and that I was living out of town so would need an appt. during a very specific block of time. Again, Keith was hugely accommodating, so another great sign.
The purchasing process is what sets Keith apart. I arrived for the appointment, and told him my finalized budget and the definite things I needed (platinum band), he explained to me my options in terms of band type vs. carat/quality of the stone, but at no time attempted to up-sell me and stayed with me on my budget. When I told him my decision, he went with it and that was a nice relief as there was no hint of a pushy sales atmosphere which I think people worry about when dealing with jewelers.
What really set Keith apart and why I would recommend him is the purchasing process. I had a pretty small window of time of when I was in the city and could get away from my (now) fiancée without raising suspicions and was hugely surprised when Keith told me I could get the ring sized and picked up the same day. On top of that, he proceeded with the sizing/setting immediately after the handshake while I went out and dealt with my bank which was online so can be a hassle to withdraw funds in larger amounts- a huge measure of trust on his part. The ring was sized and ready to go within a few hours, I picked it up, and was engaged a few days later.  Can't recommend enough, A+, great experience. Thanks Keith."
You can find Jack's review on Google.
(212) 719-2214 / email KS@nycwd.com