What You Need to Know About Appraising and Insuring Your Jewelry

NYC Wholesale Diamonds would like to see everyone who walks out of our door have their engagement ring and other fine jewelry insured. As part of our service, we always provide an appraisal for every piece of jewelry, even if you have not purchased with us. We also go the extra mile for our clients to make sure their chosen insurance company has all the necessary information to obtain insurance of their jewelry item upon pickup or shipment.
Don't have a policy already set up? Not to worry! NYC Wholesale Diamonds works very closely with Jewelers Mutual, the largest independent jewelry insurer, to get you a quote almost instantly.
Already have your valuable jewelry insured? When was the last time you had it appraised? If you answered more than 5 years ago, it's probably time to have it appraised again. Being that diamonds go up in value over a few years time, it's important to have an accurate and up to date appraisal in case your jewelry items are ever lost or stolen.
Still have questions about appraising or insuring your items? Take a minute to read this article written by Jim Donovan, Angie's List 13-time Emmy Award-winning consumer reporter. And remember, NYC Wholesale Diamonds is always here to help so give us a call at (212)719-2214 or Email our President directly at KS@NYCWD.com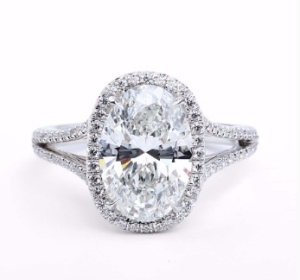 Megan Wright searched all over her house for her missing engagement and wedding rings before finally finding them in her closet.
"My four-year-old daughter had been in there playing dress up — swiped my rings, probably tried them on herself, and she left them in the toe of my shoe," said Wright.
Fortunately, they were recently appraised, which is important if you want to replicate lost jewelry because appraisals provide detailed descriptions.
"When you want to recreate the piece they'll be enough detail — the stones, the metal, the weight, the quality of the stones — that you'll get back exactly what you had. If you have a vague appraisal, then it's possible you'll end up with a ring, but it won't be the same quality or value you had originally," said jeweler Greg Bires.
You'll also need an appraisal if you want your jewelry insured.
"Having your jewelry appraised can make sure you have it valued at the correct amount, especially with the fluctuation we've seen in gold prices.  The pricing and value of your jewelry can and does change over time, so you want to be sure you've got it insured for the right amount. If it does end up lost or stolen, you get the right return," said Angie's List founder, Angie Hicks.
It's a good idea to have your items appraised every three to four years. You should expect to pay anywhere from $25 to $65 dollars per item.
More from Angie:
• An appraiser inspects the item to make sure it's wearable and that there is no damage. The appraisal marks every detail (measurements, number of stones, type of metal, weight, etc.).
• Your appraisal should also include a photograph and a replacement value – what it would cost to recreate the piece.
• An appraiser can help separate the valuable jewelry from the costume jewelry.