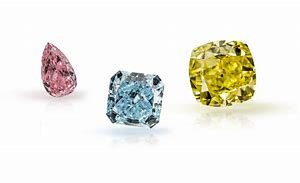 NYCWD President Keith J. Saxe is on record as strongly recommending the historic value offered in Natural Fancy Color Diamonds certified by GIA.
As the economy appears to be headed in the right direction, interest rates will continue rising. This brings into question the stability of stock market investments, and has intelligent individuals seeking alternative investments with more stability and upside.
Natural Fancy Color Diamonds offer tremendous upside with growing demand from around the globe. Always protect your investment by demanding GIA certification as the most important first step in your search.
Secondly, having a relationship with a jeweler with an impeccable reputation that cares about you throughout this process is a recipe for success!
There are not an abundance of investment grade natural fancy color diamond sellers. This is an extremely positive sign of being early in the cycle and ahead of the game in investing. Colored diamond supply is limited being that only 1 out of every 10,000 diamonds is a natural colored diamond, and the demand is constantly rising. They are unique and sought after. It seems that the equation keeps tilting the right way as a diamond investor in this sector.
There is a clear path for a strong increase in demand for diamonds as an investment from the evolving strong markets such as China and India. There is also a strong increase in demand for natural colored diamonds in mature markets that are now getting more familiar the rarity and upside. Colored diamonds are by far the rarest 'sweet spot' going forward.
Feel free to contact NYC Wholesale Diamonds for a personal consultation with Mr. Saxe by emailing him directly at KS@NYCWD.com, or calling (212) 719-2214
Oppenheimer Blue sells at Christie's for almost $4Million per Carat