Congrats to Hayden and Kristina!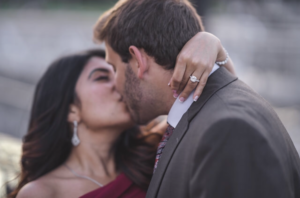 It was truly an honor to work with Hayden to design the perfect ring for Kristina!  He wanted to take all the elements that he knew she liked and combine them for this showstopper!
The couple was also kind enough to write about their experience with NYC Wholesale Diamonds.  Here is their 5 Star Yelp Review.
"I am a tinkerer. I like everything to be perfect and I pretty much do everything I can to make something perfect. I change my fantasy football lineup about 10 times every week before I can put together something I find suitable. This is the type of person I am and this is the person that Keith Saxe was able to put up with and handle.
First let me talk about Keith and then I will talk about the ring. Keith is absolutely amazing. There is nothing he wont do to make your ring or piece of jewelry absolutely fricken perfect. I never, not one time, felt pressured to buy anything. I never was oversold on anything. He has some of the best quality merchandise and the absolute best prices and he knows it. He has no reason to oversell and pressure you because he knows he has the best and for the best price.
For those people still looking, please stop, if you are a tinkerer like me you may stop. I must have went to a dozen places and looked at almost 50+ diamonds in person and hundreds of diamonds online. Keith is the only person you need to go to.
I asked Keith for a very specific design and he nailed it spot on. The ring is gorgeous. I almost didn't want to give it to my fiancé. If I ever need any jewelry of any kind I will always come to Keith first.  
Long story short, she said yes and I gave her the ring, and she looks at the dam thing more than she looks at me these days, which gives me time to go watch some football.
Keith I cant thank you enough, and any friends or even anyone that I know that is thinking of proposing or even buying jewelry I will send them your way. You are the absolute best and I cant thank you enough."