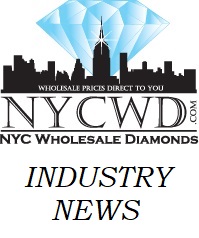 Diamond Industry Update
NYC Wholesale Diamonds continues our efforts to inform our treasured clients of the latest diamond industry trends and up to the minute updates from a collection of trade journals.
ROUND DIAMOND prices have begun their recovery from multi year lows following the U.S. economic crisis of 2008.
FANCY SHAPES, the industry term for all diamond shapes that are not round, remain at or extremely close to their lows. Here is the latest report from the premier industry source just released this morning:
Far East demand is improving as Chinese consumers seek Pears and Princesses at better prices. US and European demand mixed. Ovals and Cushions are best sellers, followed by Emeralds and Pears. Marquises, and Princesses are weak. Oversizes are selling well. Steady demand for fine quality 6 to 10 carats. Ovals, Pears and Emeralds have prices holding firm for 3 to 5 ct due to shortages. US supporting market for commercial-quality, medium-priced fancies under 1ct. Off-make, poorly cut fancies illiquid and hard to sell, even at very deep discounts.
---
NYC Wholesale Diamonds carries an impressive inventory of Round and Fancy Shape Diamonds.  Call or Email for your private viewing!
(212) 719-2214
KS@nycwd.com