10-Carat Pink Diamond Could Fetch $25 Million At Sotheby's Hong Kong Auction
A 10.64-carat fancy vivid purplish pink internally flawless diamond is the top lot of Sotheby's Hong Kong Magnificent Jewels and Jadeite sale on October 7. Its estimate is $19.1 – $25.5 million.  Sotheby's says this gem is rare in size, quality and color. Only one percent of all pink diamonds graded by the Gemological Institute of America are larger than 10 carats. In addition, fewer than four percent of all pink diamonds are considered "fancy vivid," which is a measure of its strength of color. It's the highest rating in the GIA fancy colored diamond scale. The auction house further says this gem is polished as a radiant cut, with the outline of an emerald-cut diamond combined with the scintillation of a brilliant-cut diamond.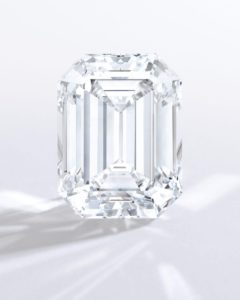 It is one of three exceptional diamonds that will be part of the sale at the Hong Kong Convention & Exhibition Centre. An 80.88-carat colorless diamond with "excellent color and clarity" is one of only five emerald-cut diamonds exceeding 80 carats ever to have been offered at auction.  The diamond is D color, with exceptional transparency, according to the auction house due to being cut from a Type IIa rough gem, which represent less than 2% of all diamonds mined. Its estimate is $9.9 – $12.7 million.
The third gem is a 100.02-carat fancy intense yellow diamond set in a necklace designed by Anna Hu. Sotheby's commissioned the high jewelry artist to create the piece around the diamond. Titled the "Dunhuang Pipa Necklace," its estimate is $5 million – $6.25 million. The silhouette of this necklace resembles a Chinese pipa (a four-stringed Chinese lute) attached to lines of a western musical staff in 18k white gold that flows in twists and waves, and sparkles with pavé diamond along the neckline. Hu was inspired by images of women playing the pipa depicted on murals in Dunhuang, considered an oasis for travelers in China's northwest desert area along the Silk Road. The necklace can be transformed into a brooch and earring.