So many fantastic items to go up at Christies New York later this week.  See some of the things we have our eye on!
Two important jewels from The Virginia Museum of Fine Arts are headlining Christie's New York's Magnificent Jewels sale, happening this week.
Prior to being acquired from VMFA, both jewels originated in the collection of Mrs. Alfred I. duPont. One of America's wealthiest families, the duPonts made their fortune in gunpowder manufacturing in the 19th century.
"The duPont Ruby" brooch, estimated to fetch between $3.5 million and $5.5 million, features an 11.20-carat cushion mixed-cut pigeon blood Burmese ruby, not heat-treated.
Pictured at top, it sits in a platinum and 18-karat white gold brooch set with rectangular- and trapezoid-shaped emeralds, French-, old- and marquise-cut diamonds and pearls.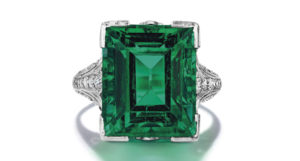 "The duPont Emerald" (pictured above) can be had for a much more wallet-friendly price estimate of an estimated $500,000 to $700,000. The Colombian, no clarity enhancement, modified rectangular step-cut 9.11-carat emerald is set in a Tiffany & Co. ring, created circa 1920.
The platinum ring also features old-cut diamonds.
Proceeds from the sale of the duPont pieces will benefit future VMFA acquisitions.
Another jewel from the early 20th century Belle Époque era is tied with "The duPont Ruby" for highest estimated sale price at Magnificent Jewels.
The pictured blue diamond ring is another of the sale's top lots. The fancy vivid blue round-cornered rectangular modified brilliant-cut 3.07-carat diamond set in platinum is expected to earn between $3 million and $4 million.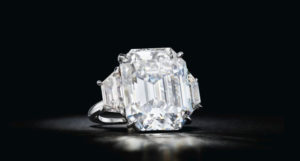 Colorless diamonds are also likely to make a splash at the sale, in particular the above Type IIa D-color, flawless rectangular-cut 24.13-carat diamond, flanked by trapezoid-shaped diamonds and set in platinum.
It's predicted to sell for between $2 million and $3 million.
See the full list of offerings at Christies New York here