Thank You, Katie, for our latest YELP review!  It was such an honor to make this dream ring for you!
We went everywhere when we were looking for THE ring. From the brand names to every person each of our friends recommended on both coasts, we had far and away the best experience with Keith and are so glad we selected him to curate the fine selection of diamonds, educate us on diamonds and create the beautiful ring that my lovely and talented fiancé used to propose to me.
Unlike Cartier, Tiffany's and numerous wholesale diamond merchants, Keith had a presentation of many diamonds in the budget, shape, size and clarity that my fiancé wanted.  He presented upwards of six beautiful diamonds all in budget. Each and every diamond presented was better than every diamond that we had seen in weeks of looking.  All were better diamonds than even the GIA report suggested and Keith guided us in our selection.
Another thing that I will mention is that he didn't give us the hard sell like most other dealers, he gave my then boyfriend time to think.  We were in NYC for all of Thanksgiving week and he allowed my dude that whole time to think.  I really think that shows respect for the client and confidence in his product, which is, as I mentioned, the very best. We knew from our research, looping hundreds of diamonds and scouring GIA reports, that our diamond is the diamond  for us, and we ended up calling him shortly after to secure it. I also think it is important how Keith explained the way he picks the diamonds and knows the industry. This allows him to get the best product for your budget.
When my fiancé proposed to me, I was so thrilled that I am able to marry the man of my dreams with the ring of my dreams.  I literally get stopped on the street many times a day.  You will get more bang for your buck with Keith and the diamond education of a lifetime."
~Katie S.
---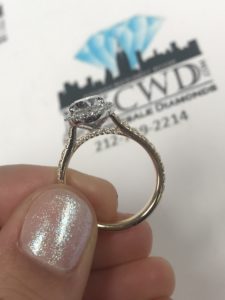 Call or Email Us to Book Your Private Appointment
(212) 719-2214
KS@nycwd.com