Monthly Archives:
March 2020
Our 3 Tennis Bracelet Settings up close.

From Left to Right: Circle base, Standard, Half Bezel
NYCWD helps you get the setting she REALLY wants!
So many clients come into our office and really have no idea what their significant other's dream ring is. Here at NYCWD, we have the perfect solution. Propose with our most basic solitaire setting with a promise to create her dream ring! NYCWD will give you back 100% the price of the basic solitaire ring to be applied toward her new, custom dream setting!
NYC Wholesale Diamonds
Personalized appointments in our private office
(212) 719-2214 or Email KS@nycwd.com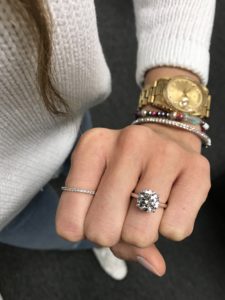 It is a true honor and to be celebrating our 32nd year here in the famed New York Diamond District!  We would like to take the opportunity to thank you all, our treasured clients. Without you this would not be possible. Your loyalty, referrals, reviews, thank you notes, Instagram and Facebook likes, we appreciate every single one.so very much!
In honor of you all, enjoy our deep discounted sale prices on these magnificent Diamond and Aquamarine designs. Perfect for celebrating and honoring that special anniversary or birthday!  Aquamarine is the soothing March birthstone
Diamond Marquise Flower Stud
3 sizes available
Pricing starts at $1,500
Diamond Cluster Stud
Multiple sizes available
Prices starting at $995
Trio Diamond and Pear Shape Aqua
$495
NEW Three Prong Aqua Diamond  Halo Stud
$650
See our full selection of Anniversary Specials HERE