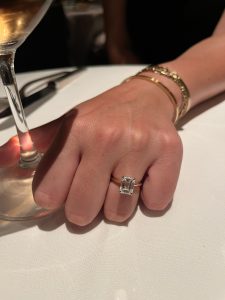 Congrats Brad on your incredible proposal to Ali!
It was such an honor and pleasure to play our small part in your happiness
Thanks so very much for this extremey kind Google Review:
No time to read reviews? Trust Keith. You're in good hands.
Have a moment? Keith's been in this industry a long time. He's also an incredibly down to earth person, and a no-nonsense straight shooter. Ignore all of the "do you want a good deal?" guys on the street on 47th while you make your way to Keith. He won't let you make a mistake on a bad deal.
My family met Keith through family friends, and I decided to ask Keith (among other diamond dealers) to help with my now-fiancé's engagement ring. Keith gave me the diamond education I was sorely lacking, with zero pressure to go through him in the end. Still, he showed me the best diamonds out of the several places I went.
When I was hemming and hawing, asking about different diamonds, he gave honest feedback, even dissuading me from more expensive diamonds that he thought weren't worth the price jump. In the end, he found a diamond that exceeded my expectations, at a price point I was surprised at (and he seemed surprised at, too).
Brad S
Five Stars
9/18/23