A 'sign of the times' article in this weeks issue of The New Yorker written by Amanda Cormier.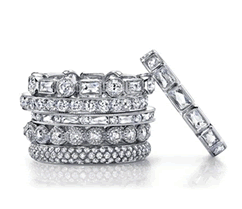 These days, it seems like people just aren't pairing up the way they used to. In our increasingly non-monogamous society, Valentine's Day shopping can present certain problems. This February 14th, impress your loved one(s) with a jewelry gift that's just right for him/her/them, with the help of this handy guide.
Barely There Thin Band (can be stacked)
For the person who just wants to keep things light. Labels don't mean anything anyway. Work has been crazy lately.
Frail Bird Tiny Diamond Pendant
For the woman still reeling from a traumatic breakup, who is putting up a strong front.
Pi Kappa Alpha Petrified-Wood Charm Bracelet
For the man who loves whiskey, craft beer, and adventure.
Let's Proceed Opal Pinky Ring
For the person who is down.
Amethyst Infinity Toe Rings (pair)
For the coastal hetero couple who said they'd get married when everyone in this country had the right to, but didn't realize that things would move so quickly.
Sweet Nothings Braided Leather Cuff
For the man who will ask you to coffee as if it is a date, but it is not a date. He just loves conversation and pour-overs.
Key to My Heart Topaz Chain
For the man who asked for a copy of the house key only because he needs to lock up on his way out in the morning. He's a freelancer, so he's allowed to sleep in a bit. It's a gig-economy accessory, not a promise ring.
No I'm Serious Platinum Anchor Pendant
For the lady who wants to lock it down.
Timeless Majesty Love Language Locket
For the woman who read "The Five Love Languages" and understood instantly that "Receiving Gifts" was her primary love language, but managed to convince herself that "Acts of Service" was more her style.
Dazzling Intersections Ring of Understanding
For the woman who can talk identity politics all night long, if you only ask her, and who self-identifies as a witch.
Classic Elegance Primrose Band of Trust
A marriage license is just a piece of paper; this ring is just a circle of cubic zirconia. For the self-aware co-habiting, committed, unmarried couple. Naughty!
Silver-Plated Drop-In Earring
For the man who late at night will text you, "Just checking in LOL."
Light as a Feather Dangle Earrings with Dream-Catcher Bead Attachment
For the freewheeling woman without a care, who seriously doesn't care. Like, at all.
NYC Wholesale Diamonds' founder and president, ​Keith Saxe, is GIA and FIT trained and has been a trusted high end diamond jewelry specialist for 28 years. NYC Wholesale Diamonds is conveniently located at 47 West 47th Street, Suite 3A, in the New York City Diamond District. His website is www.NYCWD.com and he authors a blog www.NYCDiamondBlog.com. ​Keith has ​recently been named to The Diamond Council of America, is a member of the Jewelers Board of Trade, and Jewelers of America​. He offers GIA Certified Ideal Cut Diamonds,​ and state of the art fine jewelry designs at low wholesale prices. Keith has been named the N.Y. Diamond District's Favorite Jeweler by the N.Y. Post's Savvy Shopper column, had his diamond education articles published, been recommended in the New York Times, national gift reporter Robyn Spizman's 'Perfect Present Guide' and 'The GIFTionary', as well as having his Diamond Halo Engagement Ring design featured on 'The Knot'.