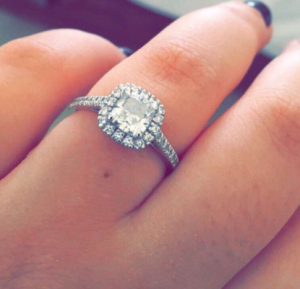 Thank you to Lawrence R. of Garden City, NY for our latest Yelp review. Wishing you both much happiness and success in your lives together!
" When I decided I wanted to propose to my now fiancée I did my fair share of research and shopped around at over ten different jewelry stores (both retail and boutique). There's no other way to put it, Keith was by and far the best jeweler I encountered. Not only is he extremely knowledgeable about diamonds, but his familiarity with the diamond industry is unrivaled.
In your first meeting with Keith you can expect him to walk you through the process of buying a diamond from the 4 Cs to GIA certifications. He will also have a selection of diamonds to show you, all in the comfort of a private office, that will more than likely be exactly what you described in your email exchange. In terms of professionalism, quality and value, I truly believe NYCWD cannot be beaten. Keith will go out of his way to find the absolute best diamond within your budget and will never try to push/force you to make a decision. Keith held my first choice diamond for me (1 week) while I finished shopping around and never once tried to talk me out of visiting another jeweler. Dealing with Keith felt like an experience, not a transaction.
My fiancée is absolutely obsessed with her ring, from the diamond to Keith's custom setting. If you're starting your engagement ring shopping process, look no further! I will be using NYCWD for all of my jewelry needs going forward."