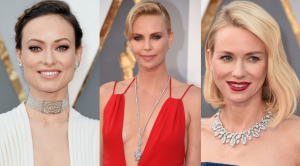 Diamonds and white metals, mostly platinum, were the stars of the 88th Academy Awards red carpet jewelry presentation Sunday. Earrings were big with chandeliers, geometric designs and large drops. There were plenty of bare necks but when necklaces were worn, they were outsized and dramatic.
The winner was Charlize Theron who appeared near the end of the event wearing $3.7 million worth of Harry Winston Diamonds. The show stopper was the 48-carat Secret Cluster Diamond Necklace, which was complemented by Winston Cluster Diamond Earrings, 15.49 carats, Cushion-Cut Diamond Ring with Micropave, 8.78 carats, Micropave Diamond Band Ring, and Queen Diamond Ring, 7.44 carats, all set in platinum.
Prior to Theron's arrival the top look was Naomi Watts' who arrived early wearing a big, bold Bulgari diamond necklace.
A unique, personal jeweler who works nationwide, Keith Saxe is GIA and FIT trained and has been a trusted high end diamond jewelry specialist for 28 years. He is the founder and president of NYC Wholesale Diamonds located at 47 West 47th Street, Suite 3A in the New York City Diamond District. His website is www.NYCWD.com and he authors a blog at www.NYCDiamondBlog.com. Keith has recently been named to The Diamond Council of America, is a member of the Jewelers Board of Trade, and Jewelers of America. He offers GIA Certified Ideal Cut Diamonds, and state of the art fine jewelry designs at low wholesale prices. Keith has been named the N.Y. Diamond District's Favorite Jeweler by the N.Y. Post's Savvy Shopper column, had his diamond education articles published, been recommended in the New York Times, national gift reporter Robyn Spizman's 'Perfect Present Guide' and 'The GIFTionary', as well as having his Diamond Halo Engagement Ring design featured on 'The Knot.'