Uncut Diamond Sells for over $10 Million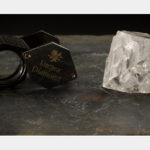 Vancouver, British Columbia–A 327.48-carat diamond recovered from a mine in Botswana has sold for $10.1 million, or $30,900 per carat.
It was the highest-grossing lot in a tender of exceptional diamonds mined by Lucara Diamond Corp., though its per-carat price fell well short of the per-carat world record for a diamond set by another Lucara-mined stone, the 812.77-carat Constellation. That diamond sold for nearly $78,000 per carat in May 2016.
The 327-carat stone, found by Lucara at the Karowe mine in April and described as being "top white" in color, was one of two rough diamonds weighing more than 300 carats sold as part of the company's 12th tender of exceptional stones, the results of which were announced last week.