Tennis (Bracelet) Anyone?…How it all began
We thought it might be fun to share with you how the term diamond tennis bracelet came to be.  And since NYCWD is celebrating its 29th year, we thought it only fitting to include this timeless piece of jewelry in our 'Anniversary Sale'.
Give us a call at 212-719-2214 or email ks@nycwd.com for details on our 'Anniversary Sale Specials'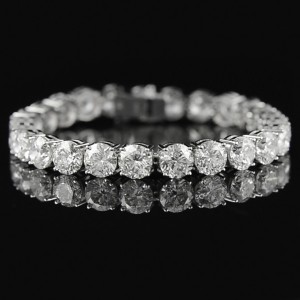 The most popular diamond jewelry gifts over the last quarter century have clearly been Diamond Stud Earrings and Diamond Tennis Bracelets. They are both stylish, have classic elegance, and can be worn both casually, as well as to the most formal occasions. They remain key symbols of style and elegance in modern society. The Diamond Tennis Bracelet is a beautiful, extremely sought after and desired accessory that continues to rise in popularity. It consists of a row of diamonds set in a fluid, almost, seem-less bracelet. Where it differs from most other bracelets is the diamonds go all around the entire length of the bracelet. This eliminates the need to constantly check if the diamonds are sitting on the top of the wrist, always remaining visible to all. Up until 1987 this style of diamond bracelet was known as an in-line bracelet or eternity bracelet.
In 1987 at the US Open Tennis Championships, tennis great Chris Evert was in the middle of a match when she noticed her diamond bracelet was missing. The bracelet was set with diamonds in a row across the length of the bracelet. Ms Evert asked the officials for some time to look for the bracelet on the court, which they kindly agreed to. Once found and secured the match continued. This was all viewed by a national television audience of millions, along with the movers and shakers in attendance at the New York venue.
This tennis match was not only part of the elite grand slam of championship tournaments, but also left its mark on the diamond jewelry industry. The match marked the beginning of the in-line diamond bracelet or the eternity bracelet being referred to as a Diamond Tennis Bracelet because of this incident. Customers began flocking to their jewelers asking for that 'diamond bracelet from the tennis match'.
The tennis bracelet has been very popular not only amongst tennis players, but also by all women who are now wearing it daily around the world. The bracelet is light in weight and very flexible, making it extremely easy to wear. Tennis Bracelets are available here at NYC Wholesale Diamonds not only in diamond; but also Sapphire, Ruby, Emerald, Tanzanite, and all the Birthstones. Combinations include alternating diamonds with all these gems, as well as Sapphire Tennis Bracelets that blend a rainbow array of all the different shades of sapphire.
The Diamond Tennis Bracelet offers an opportunity to happily surprise your special loved one for any and all occasions. The bracelet can be made in white gold, yellow gold or platinum. It can be set with different diamond shapes and can suit moderate budgets, as well as a very substantial one. They are designed at a standard length of seven inches, and are also available in eight inches for larger wrists.  Price is dependent on the overall carat weight and quality of the diamonds.
---
A unique, personal jeweler Keith Saxe is GIA and FIT trained and has been a trusted high end diamond jewelry specialist for 29 years. He is the founder and president ​of NYC Wholesale Diamonds Inc. located at 47 West 47th Street Suite 3A in the New York City Diamond District. His website is www.NYCWD.com and he authors a blog www.NYCDiamondBlog.com. ​Keith has ​recently been named to The Diamond Council of America, is a member of the Jewelers Board of Trade, and Jewelers of America​. He offers GIA Certified Ideal Cut Diamonds,​ and state of the art fine jewelry designs at low wholesale prices. Keith has been named the N.Y. Diamond District's Favorite Jeweler by the N.Y. Post's Savvy Shopper column, had his diamond education articles published, been recommended in the New York Times, national gift reporter Robyn Spizman's 'Perfect Present Guide' and 'The GIFTionary', as well as having his Diamond Halo Engagement Ring design featured on 'The Knot'