We love hearing from our clients!
Congratulations, Mike, on such an adorable proposal!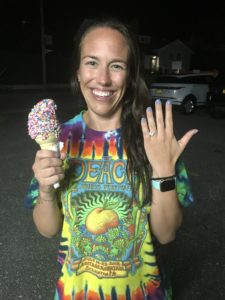 "I just wanted to let you know I proposed…and lucky enough to hear yes. Just as I told you, I did it at Marvel (ice cream shop in Long Beach) and although corny was the perfect spot. One day I'll have to tell you the story behind it because it's a great one. As for the ring, literally it was stunning. She couldn't be happier with it. Said it was exactly what she wanted, except so much more. And honestly after seeing it on her finger, I can't thank you enough for how beautiful it came out. It's everything she and I ever wanted and I have you to thank for it. I've included a few pictures for you."
~Mike D.