This month we are featuring our most sophisticated Spring/Summer 2017 Fine Jewelry Designs. Three very different designs, Diamond Cluster Illusion Styles, Diamond Multi Row Bands and South Sea Pearls. Distinctly different looks, yet sophisticated and impressive. Diamond cluster necklaces have many perfectly matched, intricately set diamonds to give the illusion of one single, larger diamond. This state of the art design offers tremendous sparkle and is a great piece for everyday wear or can effortlessly transition to a formal occasion. Magnificent Multi Row Diamond Bands are perfect for anniversary, wedding band or just state of the art style with brilliance. Pearls are a classic, sexy and staple jewelry item for every lady. A very expensive style when purchased retail, our wholesale priced South Sea and Cultured Pearls are also a versatile item which makes them a great choice without spending a fortune.
For Inquiries or Orders Call 212-719-2214 or Email KS@nycwd.com
Diamond Pendant and Dangling Oval Earrings
2.50 Carat G Color VS2 Clarity
Pendant $2,950  P733
Earrings $1,985  E733
Ring $2,550  R733
Entire Set $6,900  PRE733
Appearance of Five Plus Carats of White, Clean Diamonds!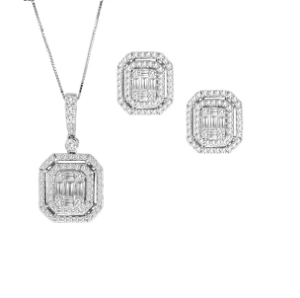 Diamond Pendant and Emerald Cut Earrings
3.00 Carat G Color VS2 Clarity
Pendant $2,500  P117
Earrings $3,950  E117
Entire Set $5,950  PE117
Appearance of Six Plus Carats of White, Clean Diamonds!
Diamond Multi Row Band Rings
4.25 Carat G Color VS2 Clarity Diamonds
9mm width $5,800
2.30 Carat G Color VS2 Clarity Diamonds
6.3mm width $3,950
All Perfectly Matched Brilliant Ideal Cut
Classic 8mm Cultured Pearl single strand Necklace
Ideal for every day wear, and all formal occasions
Includes 18kt gold clasp $1,750
Double Strand 36 inches $2,985
7mm Cultured Pearl single strand Necklace $985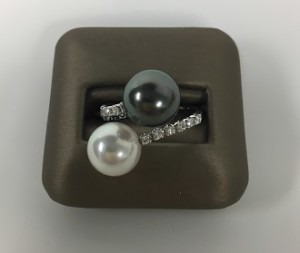 10mm South Sea Pearl Diamond Designer Ring
Custom Handmade Design in 18kt Gold
One Quarter Carat Fine Diamonds
$1,800
For Inquiries or Orders Call 212-719-2214 or Email KS@nycwd.com