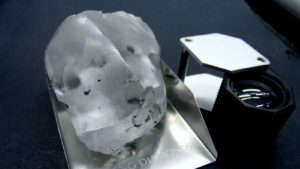 A 910-carat diamond, which is believed to be the world's fifth largest diamond, has been unearthed in Lesotho.
The stone was discovered in Letseng mine by Gem Diamonds, a UK miner with operations in Botswana and Lesotho.
Clifford Elphick, Gem Diamonds' chief executive, says the find is a "landmark discovery" and is the largest diamond ever mined by the company. Gem Diamonds shared rose 15% after news of the find.
This is just the latest find by Gem Diamonds. In Aug. 2006, the company mined "Lesotho Promise," a 603-carat diamond in Letseng mine. At an auction in Antwerp, Belgium less than two months later, Lesotho Promise was sold for $12.3 million—around $20,000 per carat. Analysts say the newly discovered 910-carat diamond could be worth as much as $40 million.