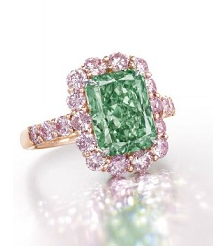 A 5.03-carat diamond dubbed the 'Aurora Green' is expected to fetch up to $20 million (HKD 155 million) at a Christie's auction in Hong Kong this month.
The largest natural fancy vivid green diamond in the world, named after a natural light display seen in Arctic and Antarctic regions, will lead the auctioneer's Magnificent Jewels sale on May 31. A report by the Gemological Institute of America (GIA) describes the cut as "cut-cornered rectangular modified brilliant" and the clarity as VS2.
"Due to their incredible rarity, top quality fancy vivid green diamonds are extremely difficult to find," said Vickie Sek, Christie's deputy chairman and head of jewels for Asia. "Graded by the GIA as the largest, natural fancy vivid green diamond in the world, the Aurora Green is indeed a natural wonder combining the purest vivid green color to a considerable size."
The auction will feature more 280 jewelry lots with a combined pre-sale estimate of about $100 million.
This article courtesy of Rapaport News
A unique, personal jeweler who works nationwide, Keith Saxe is GIA and FIT trained and has been a trusted high end diamond jewelry specialist for 28 years. He is the founder and president ​of NYC Wholesale Diamonds located at 47 West 47th Street, Suite 3A, in the New York City Diamond District. His website is www.NYCWD.com and he authors a blog at www.NYCDiamondBlog.com. Keith has recently been named to The Diamond Council of America, is a member of the Jewelers Board of Trade, and Jewelers of America. He offers GIA Certified Ideal Cut Diamonds,​ and state of the art fine jewelry designs at low wholesale prices. Keith has been named the N.Y. Diamond District's Favorite Jeweler by the N.Y. Post's Savvy Shopper column, had his diamond education articles published, been recommended in the New York Times, national gift reporter Robyn Spizman's 'Perfect Present Guide' and 'The GIFTionary', as well as having his Diamond Halo Engagement Ring design featured on 'The Knot.''