Diamonds might be a girl's best friend, but how much do you actually know about them? Beyond their blinding dazzle and swoon-worthy appeal, diamonds are more than just bling deep.
For instance, did you know that a young diamond is about 900 million years old and an older diamond is around 3 billion years old? Or that there are more Picasso paintings in the world than there are colored diamonds?
Mind blown.
We learned those pearls of wisdom and more from Tiffany & Co.'s chief gemologist, Melvyn Kirtly. For over 30 years, Kirtly has worked with the luxury jewelry company and helped curate its world-renowned collection of gems. When we were asked if we wanted to pick his brain about all things diamonds, we obviously said, "I do."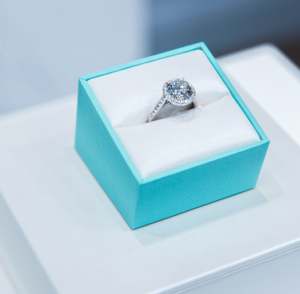 Are there specific diamond cuts or shapes that make the stone look bigger than it really is?
Not really. But some cuts have a different look and effect on the finger depending on the setting. I think that can give the ring the appearance of looking bigger. Cuts like a pear shape, for instance, you get the lovely effect of elongating the finger with the point of the pear. And [when there are] small diamonds surrounding the center stone, it gives the ring more heft, more appeal, and a bigger sense of size. So, there are ways you can set a diamond that give it the appearance of being a little bigger. But it's not an optical effect, it's more about the overall setting.
Which one of the 5 Cs (carat weight, cut, color, clarity and certification) is the most important?
Cut is the one that's really the most critical, with so many nuances that either make the diamond special or make it just sort of OK. Not only is the cut giving proportion to the stone, it's the polishing, it's the way the facets are aligned, it's the sharpness of the facets, it's all of those elements together that give that sparkle and scintillation — light bouncing off the top and light coming from the interior.
What is the most popular diamond cut/shape for engagement rings? Has it changed over the years?
Round brilliant is by far the most chosen and the most bought. I think people are open now to really think about other shapes, like emerald cut, for instance. And because we have some setting styles that add diamonds around emerald cuts we're making them in a way that is more wearable. But the classic, classic round brilliant is one that is so beautiful in the Tiffany setting that it never looks aged — it always looks so fresh.
What are your feelings about vintage diamond rings?
I'm not against buying something that has been previously owned, if it's of good quality. I think some people quite like the vintage look and there's nothing wrong with that. New, of course, is very nice for an engagement ring because it's a new life, a new beginning, a new start and it's yours forever. That in a way is what it's all about
What reservations, if any, do you have with vintage diamonds?
It could be that the stone has been worn in a way where over its lifetime it could have been scratched, it could be abraded, there could be issues with the setting. I think there are a lot of things to check. But again, I'm certainly not against it. One has to be more cautious and more careful.
Why are colored diamonds so darn expensive?
They are so incredibly rare. Colored diamonds are even rarer than colorless diamonds. And when you get into colors like pink or very intense shades of pink or green or blue or even red, which is very very rare — the amount that is available in the world is next to nothing. There are more Picassos in the world then there are colored diamonds. The rarity is enormous, so the value is incredible.
What is the most sought after color?
Pink. Vivid pink. Colored diamonds are a very interesting world, because there are nuances of color — you've got the body color and then you've also got secondary colors that work together. So you can have a blueish-green diamond or a greenish-blue. There's a whole color wheel and they can come in all the colors of the rainbow.
Are there faux colored diamonds? In other words, white diamonds that have been manipulated to make them colored?
Yes there are, but there are way for testing them. We don't accept any of those diamonds. Tiffany's will have our diamonds tested by outside and then we also have our own laboratory team test them too. But diamonds can be bombarded with radiation which with cause similar effects of what Mother Nature does to create various colors. But you can test for that and know if it's artificial radiation that's creating that hue.
You've seen plenty of diamonds in your lifetime — what is the most beautiful diamond you've ever seen?
A diamond the color of Tiffany blue. We called it the Tiffany anniversary blue. It was a 2.5 carat oval cut. You could see that diamond from a mile away. It's the most special and rare diamond we've ever had. It was the color of the bluest, bluest sea you will ever look at in your life.
Is it in the Tiffany & Co. archives?
We sold it. And the people that have it are the most lovely people in the world — the wife wears it every day. It was an engagement ring.
This article appeared in today's edition of The Huffington Post, written b
y Julee Wilson.
A unique, personal jeweler who works nationwide, Keith Saxe is GIA and FIT trained and has been a trusted high end diamond jewelry specialist for 26 years. He is the founder and president of NYC Wholesale Diamonds located at 47 West 47th Street Suite 3A in the New York City Diamond District. His website is 
www.NYCWD.com
 and he authors a blog 
www.NYCDiamondBlog.com.
 Keith has a full service store located across the street from his private office, and a San Diego factory showroom. He offers GIA Certified Ideal Cut Diamonds, and state of the art fine jewelry designs at low wholesale prices. Keith has been named the N.Y. Diamond District's Favorite Jeweler by the N.Y. Post's Savvy Shopper column, had his diamond education articles published, been recommended in the New York Times, national gift reporter Robyn Spizman's 'Perfect Present Guide' and 'The GIFTionary', as well as having his Diamond Halo Engagement Ring design featured on 'The Knot.'